Australia's lack of toilet paper has made headlines this week thanks to the COVID-19 Coronavirus, with frenzied shoppers fighting (literally) for the last remaining packs of dunny rolls in some sort of feverish, dystopian battle royale.
Coronavirus refers to a family of virus that contain the common cold, bronchitis and other respiratory infections including SARS. What makes COVID-19 hazardous is it's ability to transfer from animals to humans, it's ability to mutate rapidly, and that no vaccine exists for it at present.
What COVID-19 doesn't do is cause spectacular, prolonged bouts of diarrhoea that would necessitate the need for the entire country to go out and buy their bodyweight in toilet paper.
Why are people stocking up on toilet paper?
Due to our reliance on overseas production of literally everything, pandemic lockdowns have had significant impacts on supply chains worldwide. Uninformed masses picked up on a Hong Kong based political journalist that reported that toilet paper supply would be affected. Now we all get to experience the absolute depths of human depravity in an aisle designed to clean up our undesirable actions.
Should you stock up on toilet paper too?
No. Obviously if you've run out at home, you're probably 💩 out of luck now, but there is no point in committing to a selfish bulk buy. Only 40% of our toilet paper is imported from overseas, but for those of us who care about what we wipe our bums with, Kimberly-Clark (Kleenex) has Australian manufacturing facility with ample supply and 24-hour manufacturing.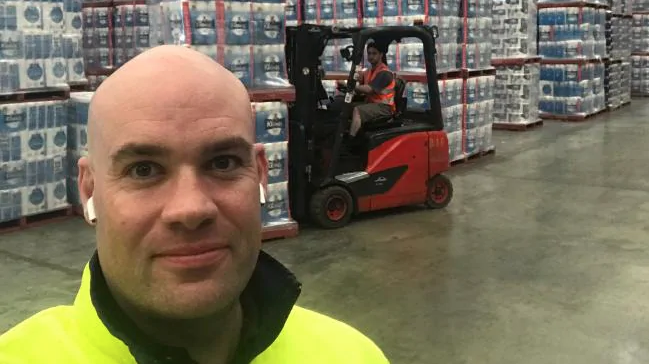 Selfie from a Kimberly-Clark worker in their warehouse.
Why all the hype?
We are social creatures, and a crisis like this (perpetuated by the media and the government's insistence on multiple daily press conferences) is prompting the most anti-social behaviour in recent memory. Fear of missing out (FOMO) due to a supply:demand imbalance is a key motivator for any kind of hype. After all, nobody wants to resort to using a sock or ice-cold bidet.
It goes without saying that we have a herd mentality when it comes to objects or concepts that we as a community deem desirable, from necessities like toilet paper, to novelty or luxury items like handbags or shiny precious metals, even intangible things like intellectual property or cryptocurrency (or fiat currency for that matter).
Tulip Mania
Hype doesn't stop – or start – with toilet paper, the earliest noteworthy instance of baseless stock shortfall triggering this kind of panic was "Tulip Mania". Tulip Mania was a dark time in 17th Century Holland where the humble tulip flower was the must-have item to prove your social status – or what the kids nowadays call clout.
Tulip bulbs fetched nearly 10 times a person's annual salary at their peak, and due to scarcity the resale market was the primary cause of skyrocketing prices. Tulips take nearly a decade to flower from a seed, so bulbs naturally fetched a premium.
The tulip bubble lasted less than half a year, with Dutch investors wallowing in a pit of worthless tulip bulbs they paid so much for.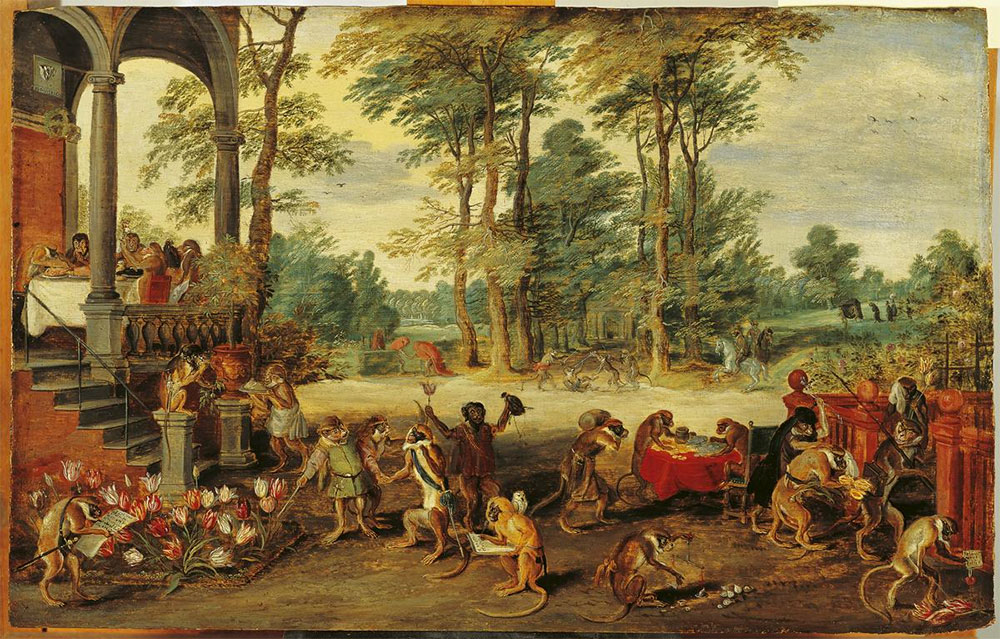 A Satire of Tulip Mania (Jan Brueghel the Younger (1640)) depicts tulip maniacs as brainless monkeys.
Sick Shoes, Bro
In more recent times, Bitcoin was proclaimed by many to be the modern equivalent of Tulip Mania, which has been covered ad nauseam by nearly every blog on the internet.
I'm a big sneaker fan, so I am at the coalface of the sneaker hype ecosystem in my spare time. The sneaker resale game is a US$2 billion dollar market that is projected to reach US$6 billion by 2025.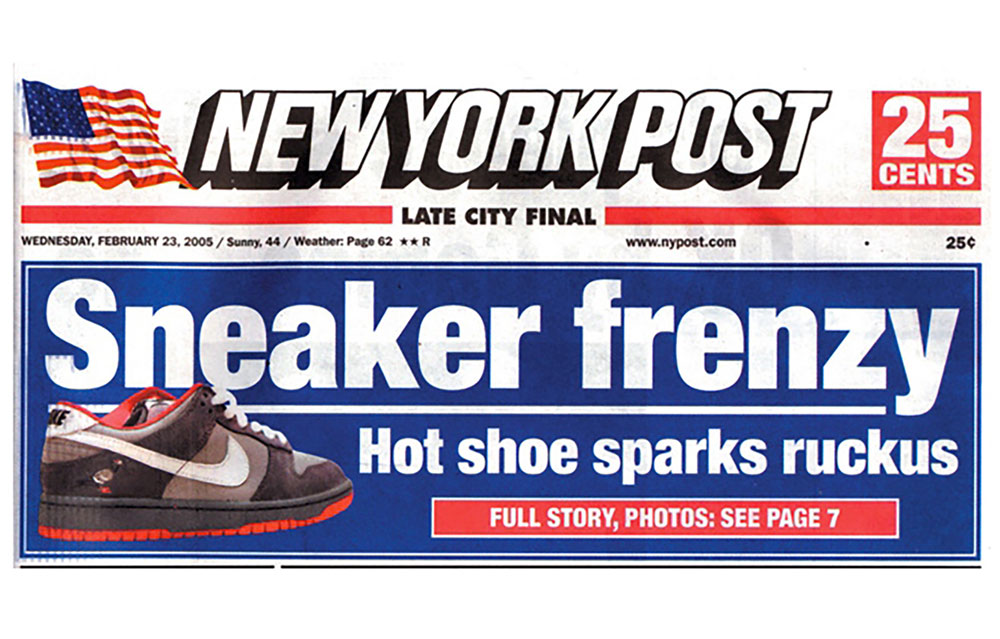 Jeff Staple's Nike SB Dunk "Pigeon" release sparked riots in New York in 2005.
Jeff Staple made headlines in 2005 when he released his Nike SB Dunk "Pigeon" with sneakerheads lining up around the block for a chance to buy a pair of these limited edition shoes. Riots were reported over these pigeon-emblazoned kicks which now sell for over AU$20,000 on sneaker resale marketplaces like StockX.
In the 15 years since, the demand for limited edition shoes has only increased, with heavyweight collaborators like Michael Jordan (Basketball the legendary Nike Air Jordan), Virgil Abloh (Off-White and Louis Vuitton Creative Director), Kanye West (Rapper turned reality TV husband), Travis Scott (Rapper and owner of giant inflatable version of his own head) and the late Kobe Bryant all carving out a significant chunk of the industry with their own signature shoe lines.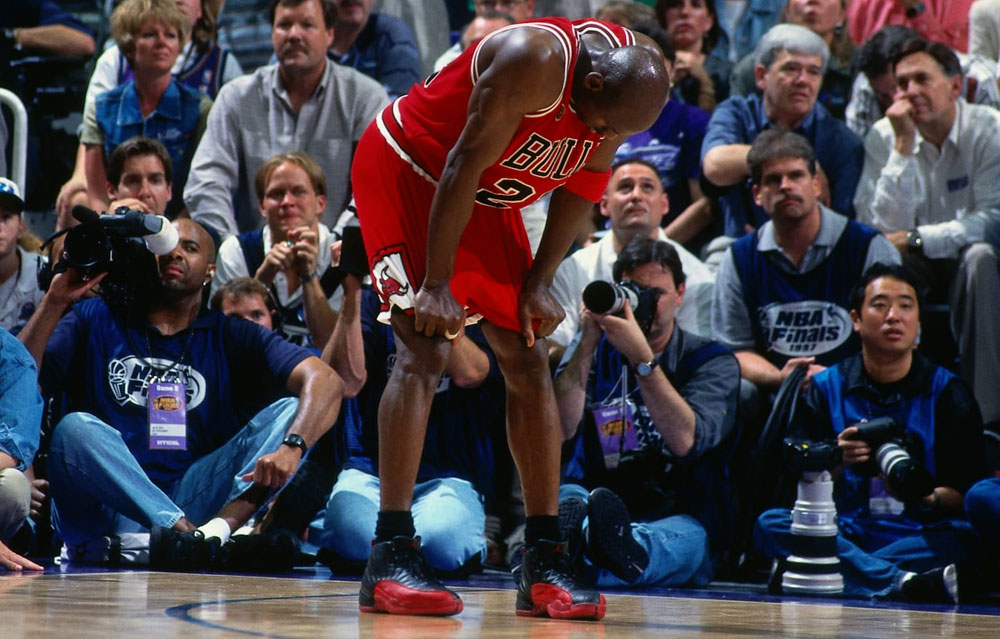 A very sick Michael Jordan during the legendary Game 5 comeback victory in 1997. His Airness wears a pair of "Flu Game" Jordan 12's which maintain a cult following. Sick shoes indeed.
Stop, Collaborate and Listen
Hype transcends the shoe and personal hygiene industries, retailers worldwide have taken the collaborative bull by the horns and successfully leveraged it for products as mundane as homewares. Flat-pack furniture and sales maze juggernaught IKEA frequently collaborate with creatives worldwide. Most recently was a collaboration with Off-White's Virgil Abloh in November.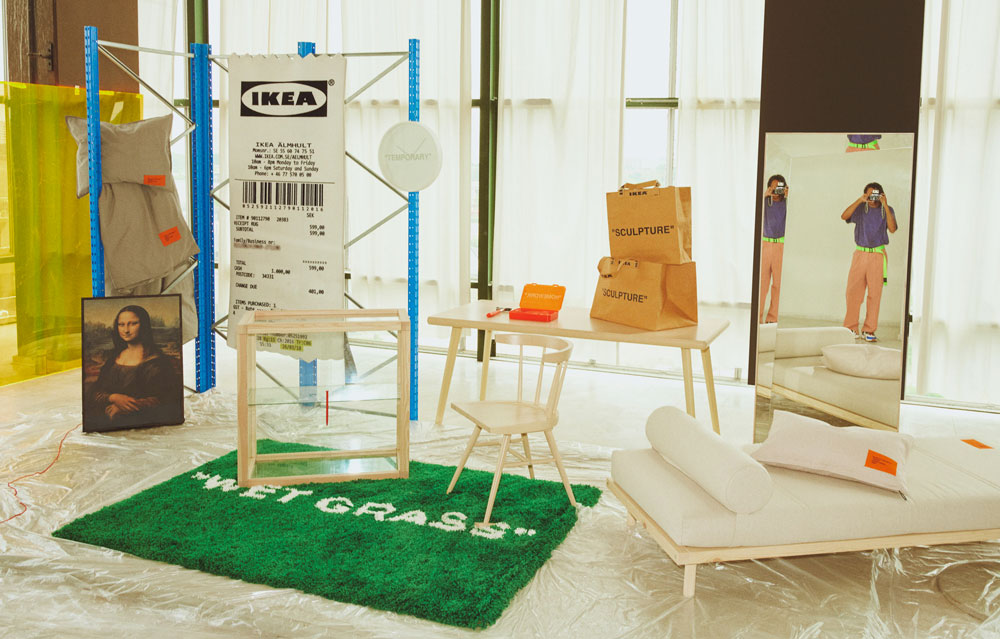 IKEA x Virgil Abloh MARKERAD collection featuring a wet grass rug, giant IKEA receipt, paper bags and a broken mirror.
I attended the launch of the MARKERAD collection for three reasons:
Observe how IKEA would handle the scale of a launch like this
Investigate the extent that the devoted customer would go to secure a limited edition piece
I wanted a clock.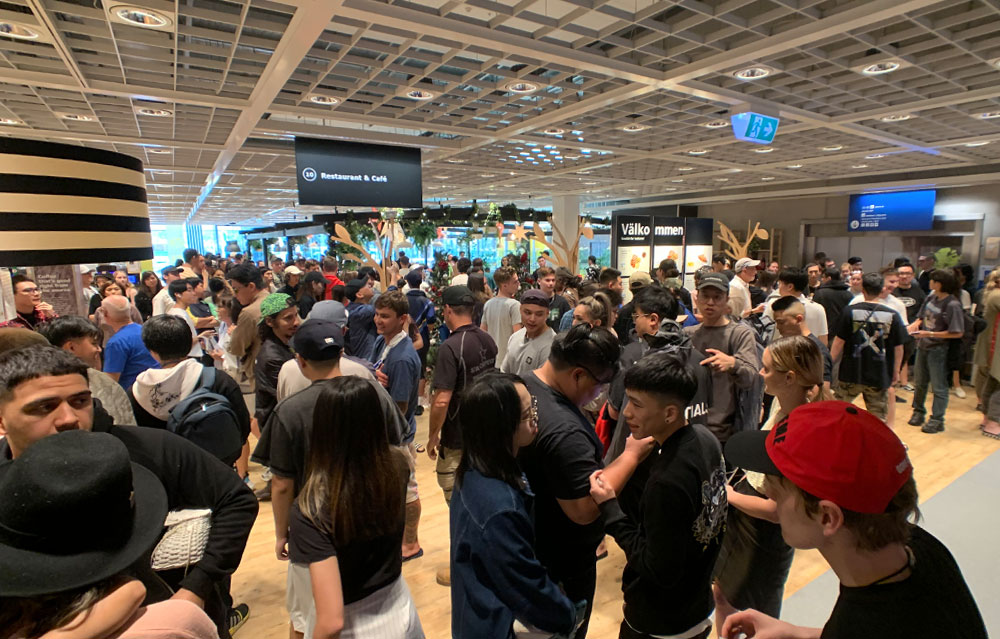 IKEA's foodcourt was packed, and it wasn't for $1 hot dogs.
The turnout was huge, I got there half an hour before the launch was due to start and IKEA had already allocated all of the tickets they had allocated for the products an hour before I got there. More than 20 people had camped out overnight to get their hands on furniture, which featured a backlit Mona Lisa, a chair with a doorstop on one leg, and a green shag pile rug with "WET GRASS" written on it.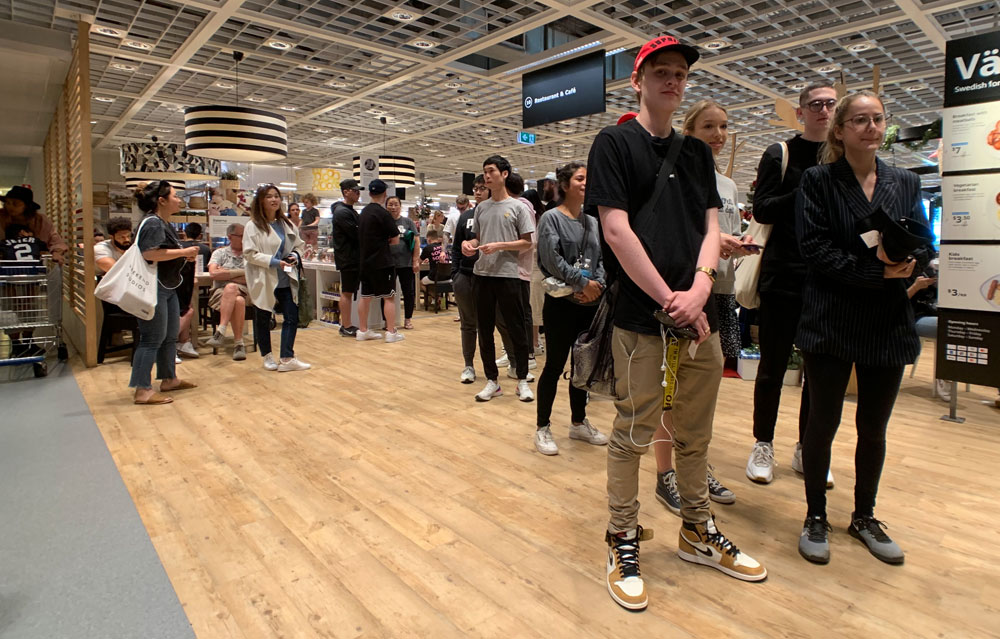 Gordon, a hype reseller who does this full time.
I met up with Gordon, a reseller who quit his day job to attend releases like this as his primary source of income. Gordon has a contract with a sneaker resale store in Brisbane and has been lining up for things professionally for over 18 months.
Before the first half of the allocated numbers had been called, the Mona Lisa had already sold out. By the end of the day, the only items remaining were a small IKEA toolkit with a "HOMEWORK" embellishment on the lid. Clearly hypebeasts aren't the DIY type.
You'll be pleased to know that Gordon got me my clock, which I'm not too proud to admit that I paid a premium on over RRP – but that's par for the course when it comes to the resale market.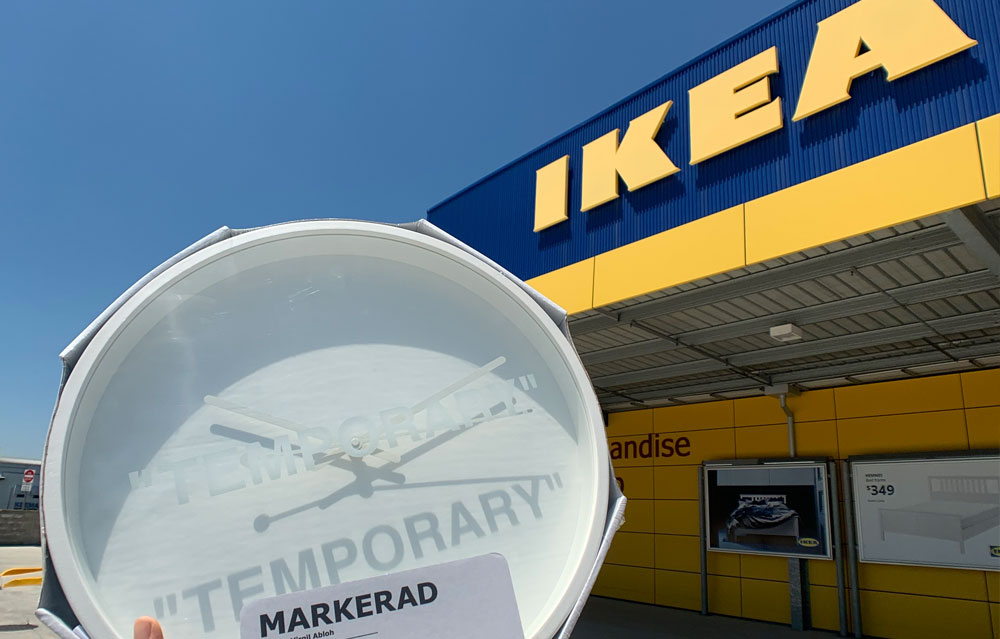 My MARKERAD clock, featuring Virgil Abloh's trademark quotation marks which are both fashionable and incredibly difficult to use as an actual clock.
Befriend The Bar Keeper
Switching back to grocery store wars for a quick final case study, Bar Keepers' Friend is a canned abrasive cleaning powder that has been produced since 1882. It had a humble single facing allocation in the cleaning aisle in your local supermarket, but then something strange happened earlier this year.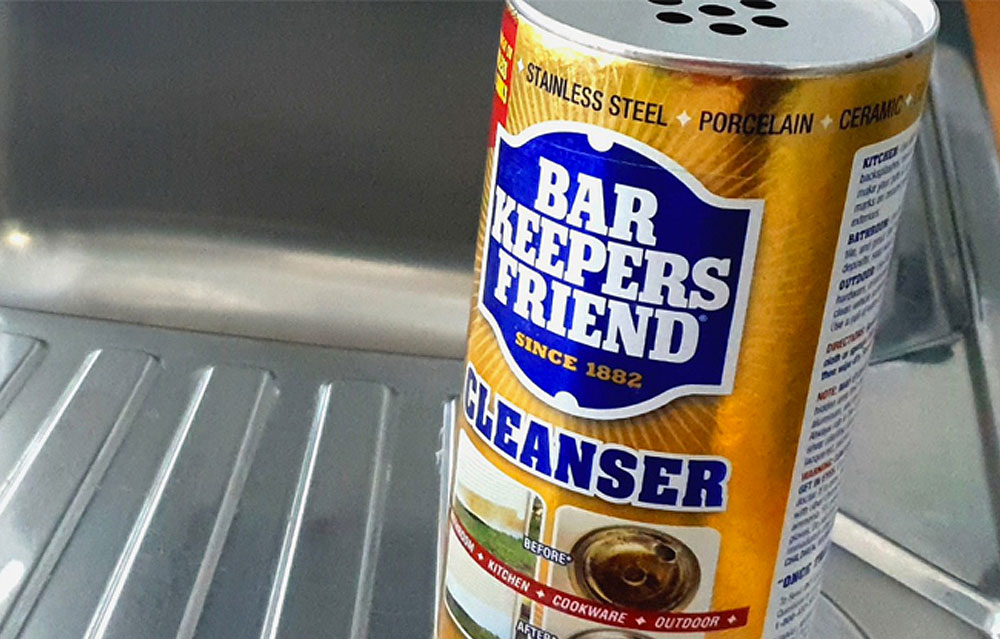 Bar Keepers' Friend, still relevant in 2020 after nearly 140 years.
Social media discovered that this humble little can could do the unthinkable: it could obliterate the calcified buildup on your shower screens and brighten the kitchen sink with minimal effort. Consequently, the $8 can has been sold out for months despite assurances from Coles and Woolworths that they will meet demand.
Will Barkeeper's Friend attract a 4-pack-per-customer limit or will it go the way of the tulip? Either way, retailers are cleaning up on the hype.
If the COVID-19 panic is getting you down, here is an incredible Simpsons mashup to lighten the mood:
View this post on Instagram