Podcasting is not new. However, what was once seen as a niche and hobbyist medium has well and truly gone mainstream. 
The art of audio storytelling has seemingly been given a shot in the arm through this format and embraced by content producers equally, from those at the kitchen table through to the larger media houses.
Many people first became aware of them when Apple over 15 years ago first offered over 3,000 free podcasts on iTunes. According to Forbes, there are now over 800,000 active podcasts with over 54 million podcast episodes available globally. 
With low production costs and few barriers to entry, podcasting as a medium is available to nearly everyone. The popularity of portable music players and smartphones has only made accessibility to podcasts easier.
Michele Levine, chief executive of research firm Roy Morgan, said podcasts are growing in popularity in Australia with nearly 10% of Australians now downloading audio or video podcasts in an average month:
"Podcasts are a relatively new part of the media landscape but are making an increasing impact as audiences for the service are on a steady growth track up an impressive 70% over the last four years to over 1.6 million Australians in 2019.
"The ability to listen to your favourite podcast while commuting to and from work and tuning out from the hustle and bustle on crowded public transport, or just relaxing in your spare time to catch up on what's been happening in an area of personal interest is appealing to a growing number of Australians."
Podcast rankings
As the attention of advertisers and brands follows, the seemingly fragmented world of podcasting and audience measurement is becoming more ordered, particularly with radio heavyweights embracing the platform. 
Late in 2019, Commercial Radio Australia (CRA) announced the launch of the first monthly Australian Podcast Ranker which sees Australia's top 100 most-downloaded and listened to podcasts ranked each month. The monthly rankings can be accessed here.
The ranking was launched with a foundation group of podcast publishers including News Corp Australia, Podcast One Australia, Nova Entertainment, Southern Cross Austereo (SCA), Australian Radio Network (ARN), Macquarie Media and SEN/ Crocmedia.
The rankings are dominated by our larger entertainment groups, with many familiar names including Hamish and Andy at the top. True crime is continually popular with News Corp Australia's series of crime podcasts ranking highly including The Nowhere Child and Who the Hell is Hamish?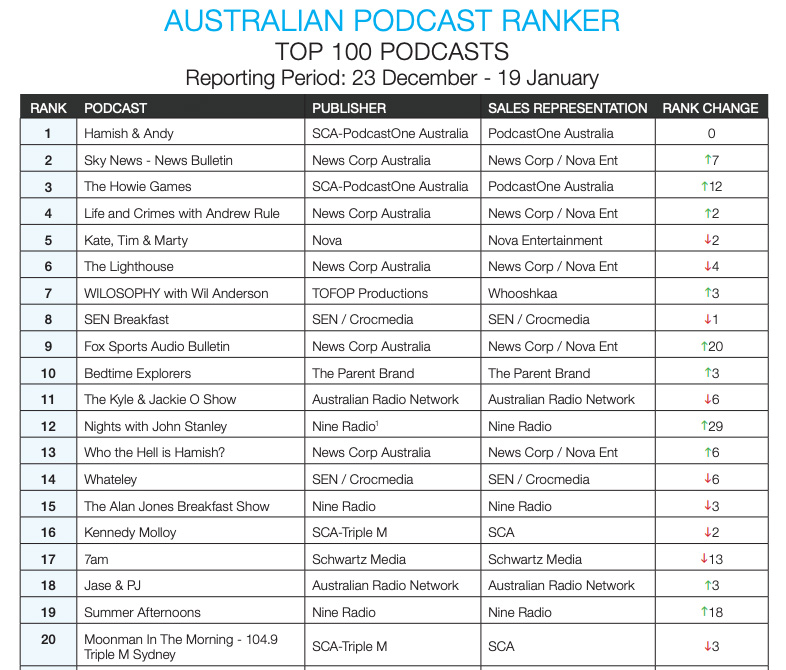 How can podcasting benefit your brand? 
Have you considered podcasting as a means of engaging with your customers and seeking out new audiences? A podcast may well fit in with your brand strategy and content marketing program and provide the following benefits: 
Reach new audiences
Podcasting can help you reach new audiences, especially through recommendations and referrals from satisfied listeners. If your podcast provides relevant and informative listening chances are that others will value your show, even if they're not currently a customer.
Building relationships with an audience
Even though a podcast provides a largely one-way stream, it's a great way to speak directly to your audience and is considered quite a personal medium, much like quality radio programming. The audience has elected to opt in, so you have a good opportunity to keep their attention. 
Make your brand more real
If you avoid the temptation of the hard sell and instead provide an informative listening experience and make your listeners feel part of a community then your engagement levels will be high and this will be reflected in brand trust and confidence.
Accurate Analytics
The digital medium allows you to accurately measure engagement by tracking key statistics which may include, amongst others: 
number of listens for each episode

country or region they listen from

ratings and reviews

top-performing episodes

average length of listening.