Warner Brothers have hit the rename button on their mouthful of a title for the new Harley Quinn film, citing "search expansion for ticket sites" as their motivation.
It's not often you have a post-release change to anything as large as a feature film, especially for the purposes of SEO.
Without critiquing the movie itself, let's just get stuck into exactly how critical your title structure is to give your content the best chance of success.
Supervillains Need SEO, Too
The original title is 69 characters and 11 words long including parentheses:
The new title is just 28 characters and 5 words long:
Harley Quinn: Birds of Prey
Harley Quinn's namesake has now been given pride of place, with Birds of Prey taking a back seat, and the rambling 40 character Australian Psychic Expo word vomit is gone.
Why is the title important? Anyone, regardless of their enthusiasm for comic book movies will be able to tell you that this is the Harley Quinn movie. In general, Google show a maximum of 60 characters in Search titles, so by positioning her extremely valuable name 55 characters into the title, listings will exclude her name from appearing at all: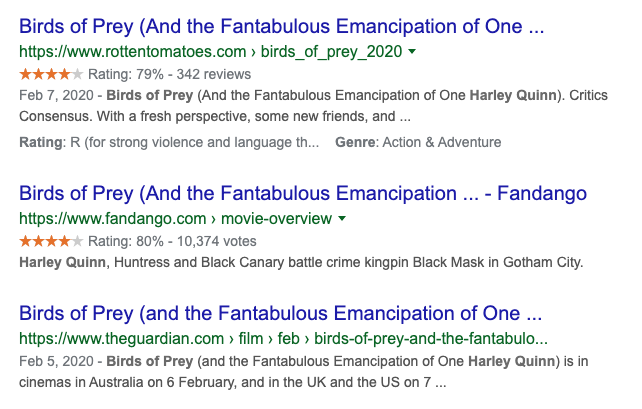 Then there was this headline from Forbes which had a healthy dose of irony:

Whereas the truncated title fits perfectly with 30 characters to spare for the website's name itself, benefiting local Cinemas and review sites alike, all battling for ticket sales and impressions.

The fact of the matter is, Birds of Prey simply doesn't hold the same level of brand recognition as Harley Quinn does. It isn't The Avengers, or X-Men (which suffered a similar blunder with Dark Phoenix). Current trends show that it's only been as recently as this week that Birds of Prey's search popularity has started to eclipse that of Harley Quinn's:
If we compare the original title to the truncated title, the latter is 20 times as popular and trending upward as of writing this:
Even adding 'Harley Quinn Movie' to the mix illustrates the link between Harley Quinn and the brand's success:
Objectively speaking, if this were any other service or product that you were searching for and you were presented with search results that didn't contain the thing that you actually searched for, you'd probably just keep scrolling. You wouldn't look for plumbers in your area and click a listing that began with 60 characters describing the van they turn up to a job in.
Admittedly, when I first read the original title for Birds of Prey my mind immediately defaulted to a Troy McClure film of undisclosed popularity:
Oddly enough, 'The Contrabulous Fabtraption of Professor Horatio Hufnagel' just squeezes in to the 60 character limit, making it slightly more SEO friendly than what I'm writing this article about.
Metatags Aren't Just For Metahumans
Warner Brothers have been under fire in previous years for strong-arming directors into pre-release title changes, so this could simply just be a change of tact to afford Cathy Yan proper creative control over her film despite the unusually eccentric title raising numerous eyebrows.
Corporate Bean-Counters stepped in to action this unprecedented title change fairly swiftly, speaking volumes about the power of SEO and appropriately structuring your titles to make sure it is seen by as many eyes as possible.
Much like a feature film, your content is a money-making exercise. Business doesn't run on love alone, you are always investing your time into creating content designed to position you as an expert in your field.
This isn't saying you can't be creative with your titles, you just have to be creative in the scope of the platform you're publishing on. All content delivery methods come with a set of parameters that you must adhere to, which aren't limited to just movie titles. For example, if you are creating content for TikTok, you wouldn't use still images. If you are trying to launch a new car model in Portugal, you'd name it the Kauai instead of the Kona. If you were creating a billboard ad for the side of a highway, you wouldn't use an entire paragraph of text (or would you).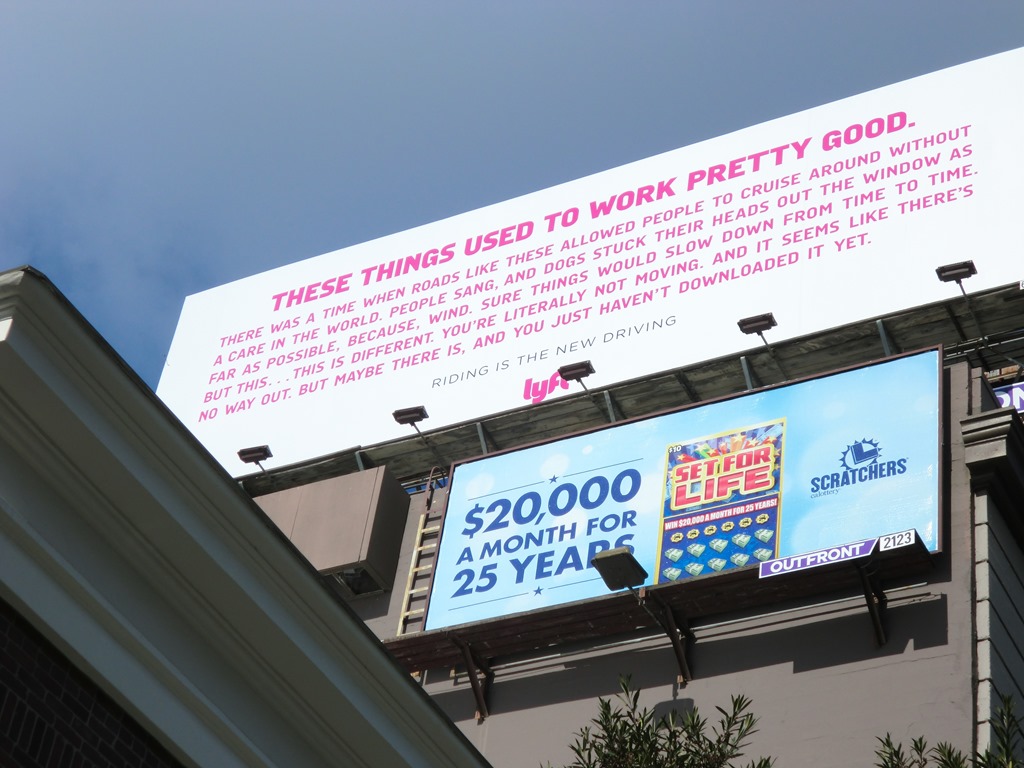 With that said, it's time for you to start structuring your page titles effectively, they are your ad's headline in organic search results.
Keep them under 60 characters long
Use your most important elements at the start
Answer a question preemptively (chances are you're writing the article to answer something anyway)
Promote yourself shamelessly
The key takeaway from this scenario is that if the first title you pick doesn't hit the mark, that's ok! If Warner Brothers' can change a movie title, then you can change your blog post's title (feature image, excerpt or content for that matter) at any time. That in itself is the beauty of creating content for the digital world, you're only limited by your attachment to what you create.