If the GFC, SARS, Swine Flu and Zika were condensed into a single movie, it would be akin to The Terminator – a film dwarfed by it's successor in every way. The COVID-19 Coronavirus pandemic, or Judgement Day in this metaphor, is already laying waste to the global economy in a spectacular fashion as we all grapple with our 'new normal'.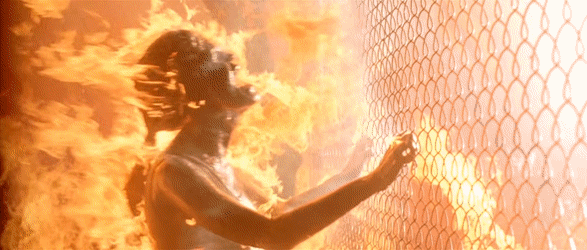 Long-lasting economic impacts of the pandemic pale in comparison to the immediate, public health disaster that we are faced with as we all battle to flatten the curve and collectively grieve for the fallen. If you feel extremely uncertain about the future, you're not alone – 39% of people feel the same way, plus another 52% of people feel somewhat uncertain. You'll also be forgiven if you feel anxious, as nearly half the population share your existential dread, with only a quarter feeling somewhat optimistic according to a report by McCrindle this month (April 2020).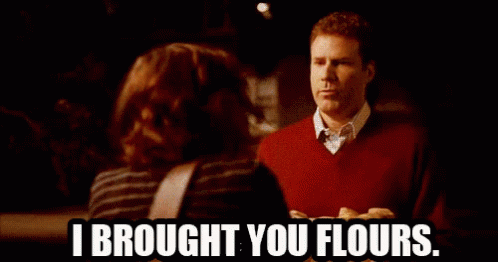 As most of us stay home for the greater good, we look toward online delivery of essential items like groceries and food. Our thirst for online retail is now more significant and necessary than ever, and we're now seeing significant spikes in search traffic to terms that reflect grocery store shortages instead.
As I've written about previously, the first to disappear from grocery stores was toilet paper, followed swiftly by hand sanitiser and pasta. A surprising item to sell out nationwide was flour, which I later discovered was predominately being used by housebound Australians to make banana bread. I know one of the first symptoms of Coronavirus is losing your taste; but banana bread, seriously?
The Pandemic Pyramid
eCommerce analytics firm Profitero have crafted a Maslowian pyramid based on prolific search terms on Amazon. Comprised of 7 need states arranged into 3 groups, this is a great insight into consumer behaviour thus far.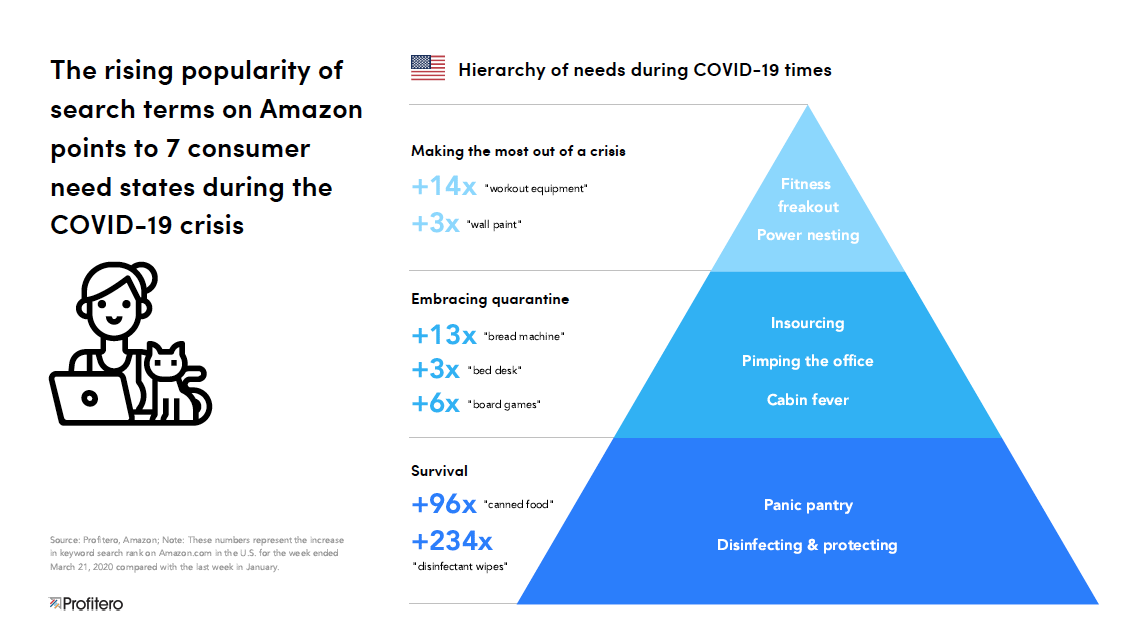 As you can see, the Survival tier, responsible for consumers emptying supermarket shelves of essentials is predictably responsible for the largest increases in consumer spending.
Marketplace Pulse have been tracking the popularity of items that we'd consider Coronavirus essentials (face masks, wipes, gloves, soap, hand sanitisers, toilet paper and emergency food) since December 2019. Their findings are represented as the Amazon Coronavirus Index: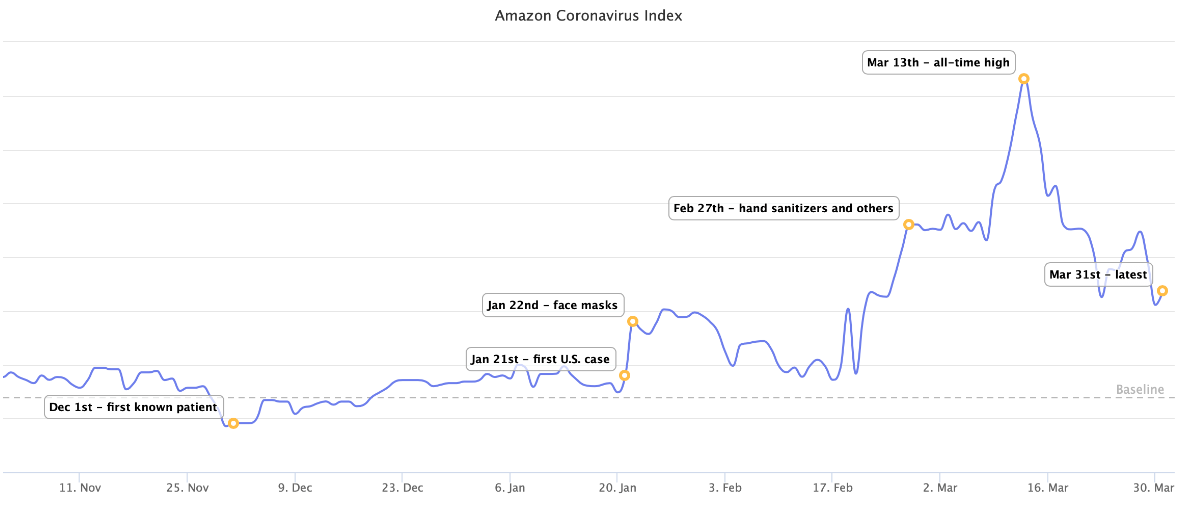 Hot on it's heels is the Embracing Quarantine tier, where those of us lucky enough to work from home begin to splash out on improving the home office, kitchen and investing in puzzles which haven't seen this kind of demand since the information era began.
With gyms shut down and fitness equipment now being worth it's weight in gold (literally, rusty weight sets are now $300+ on Gumtree if you're lucky) – the urge to improve our health, is nearly 5 times as popular as improving our homes in the top tier.
Marketers in the fitness sphere have capitalised on this trend, Pattern89 have reported that headlines and body copy featuring sport and fitness topics increasing four times from 5.7% to 21% of all digital ads – talk about those gains.
Aside from fitness bulking up, we're also seeing a shift in imagery in general being used, with a substantial 27.4% decrease in ad creatives that feature human contact, and a six-fold increase in cleaning/hygiene practices. I know I'm not alone when I feel the urge to shout at the TV screen to tell characters to social distance.
Drop Dropshipping
As my colleagues have written about this month (links below) the importance of your tone of voice when it comes to marketing your business in a time of crisis is paramount. You shouldn't feel afraid to continue to do business, but you should feel compelled to shy away from opportunistic and predatory messaging.
READ MORE: Brand Marketing More Important Than Ever
READ MORE: Communicating In The Age Of Coronavirus
Now is not the time to prey upon the less fortunate or the digitally naive, particularly with the elderly being one of the largest cohorts being forced to utilise eCommerce and likely lacking the digital cynicism that most of us (hopefully) possess.
Dropshipping stores that rely on wholesale marketplaces like Alibaba/Aliexpress are opportunistic models at the best of times, and Shopify have recorded registrations of over 500 Coronavirus-related digital storefronts since the outbreak.  Not only are they seeking to profit off a global public health crisis and are offering a sub-standard (potentially lethal) product, they will likely be unable to fulfil orders in a timely fashion anyway.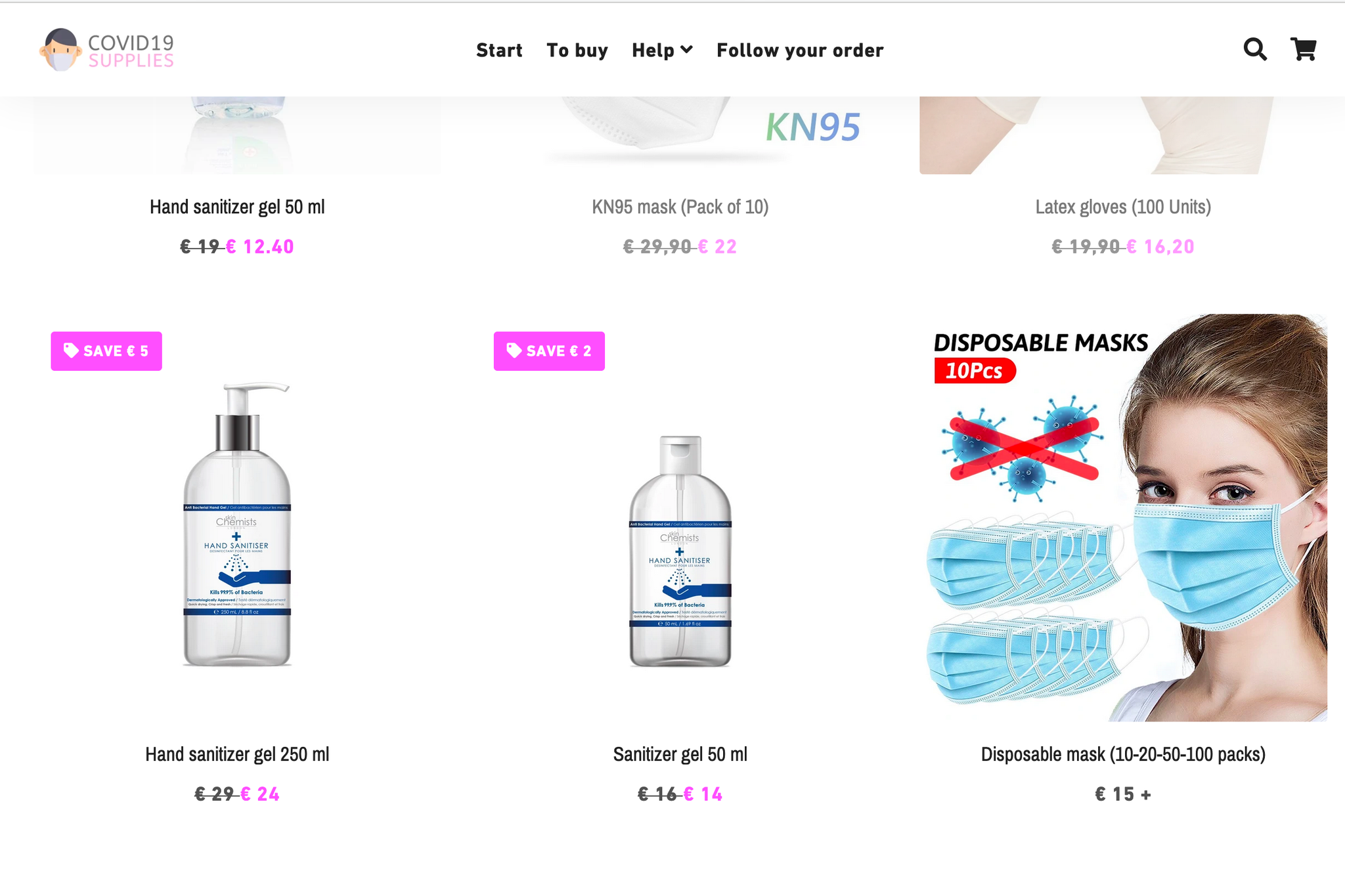 More worrying still, I've noticed an increase in 'successful entrepreneurs' marketing their own dropshipping training courses to potentially vulnerable people on social media. These (surprisingly expensive) 'courses' offer extravagant promises of outrageous success through creating your own dropshipping eCommerce store by leveraging 'winning products' and somehow equating revenue to gross profit. Stranger still, they all seem to pose next to the exact same AMG G-Wagon in the exact same location (a used luxury car dealership).
eCommerce is a fruitful endeavour when you can offer a genuine product, delivered in a timely manner which creates actual value for the customer. Self-isolation is a wonderful time to consider forging yourself a sustainable and scalable digital income, but be wary enough to do it in a way that benefits your customers as much as it benefits you financially.
Keep your wits about you, keep your messaging clean, and spread hope – not Coronavirus.