Many Australian bricks-and-mortar businesses have taken flight to eCommerce in order to bolster their sales following restrictions imposed by the COVID-19 virus according to the latest figures revealed by Australian eCommerce payments provider, eWAY.
In the six-week period following the announcement of restrictions on the retail and hospitality sectors, eWAY saw a 369 per cent increase in applications from the hospitality sector, a 380 per cent increase from groceries and supermarkets, and a 233 per cent increase from beer, wine and liquor merchants. 
These increases were compared to the six week period prior to the announcement of restrictions.
eWAY Australia and New Zealand Managing Director Mark Healy said, "A lot of the businesses we see coming online were those that had more of a bricks and mortar presence, but due to the restrictions announced, had to pivot their businesses and look for alternate ways to process orders and take payments. 
"Some of the businesses we've been involved with in establishing their online payment functionality include a range of restaurants and cafes, fruit and vegetable retailers and butchers.
"Most of these already had a web presence, but not a true online retail capability."
Mr Healy said that non-traditional eCommerce businesses such as local butcher shops were turning to web solutions to continue to trade with their customers and offer online ordering and secure payment. 
"Many of these businesses are now offering local delivery services and click-and-collect," Mr Healy said. 
"We expect that these service options will become permanent in a lot of cases as businesses adapt to the changed landscape.
"The business knows that payment has been approved, so they can pack orders and thereby minimise physical human contact as well."
Gnocchi Gnocchi Brothers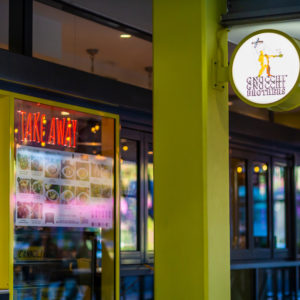 One restaurant business which has adapted by using an eCommerce solution is Queensland's Gnocchi Gnocchi Brothers, with dining premises at Paddington, South Bank and Southport. 
Co-founders Ben Cleary-Corradini and Theo Roduner built their business from a two-person market stall in Brisbane serving fresh handmade gnocchi.  
"When the COVID-19 restrictions came in we had to close our dining operations, which constituted about 50 per cent of our revenue," Ben Cleary-Corradini said.
"We had to look for other ways to continue to operate and keep our staff on. We had spent a lot of effort increasing our current online experience for customers and took the opportunity to launch our own home delivery service utilising eWAY's all-in-one payment solution.
"As well as clawing back some of the lost revenue and improving margins with the takeaway side of our business, importantly it has meant we've been able to redeploy some of our staff and hang on to some of those jobs."
Cleary-Corradini said that Gnocchi Gnocchi Brothers has benefited significantly by becoming takeaway focused and being able to serve the community and loyal customers that wanted to support them.
Since launching in 1998, eWAY has become the dominant player in the Australian eCommerce space, processing more than 1 in 4 transactions in the market for businesses both large and small.

eWAY seamlessly integrates with hundreds of leading eCommerce shopping cart platforms and a network of custom integration development partners, providing a competitive advantage for any business that wants to grow through accepting digital payments.