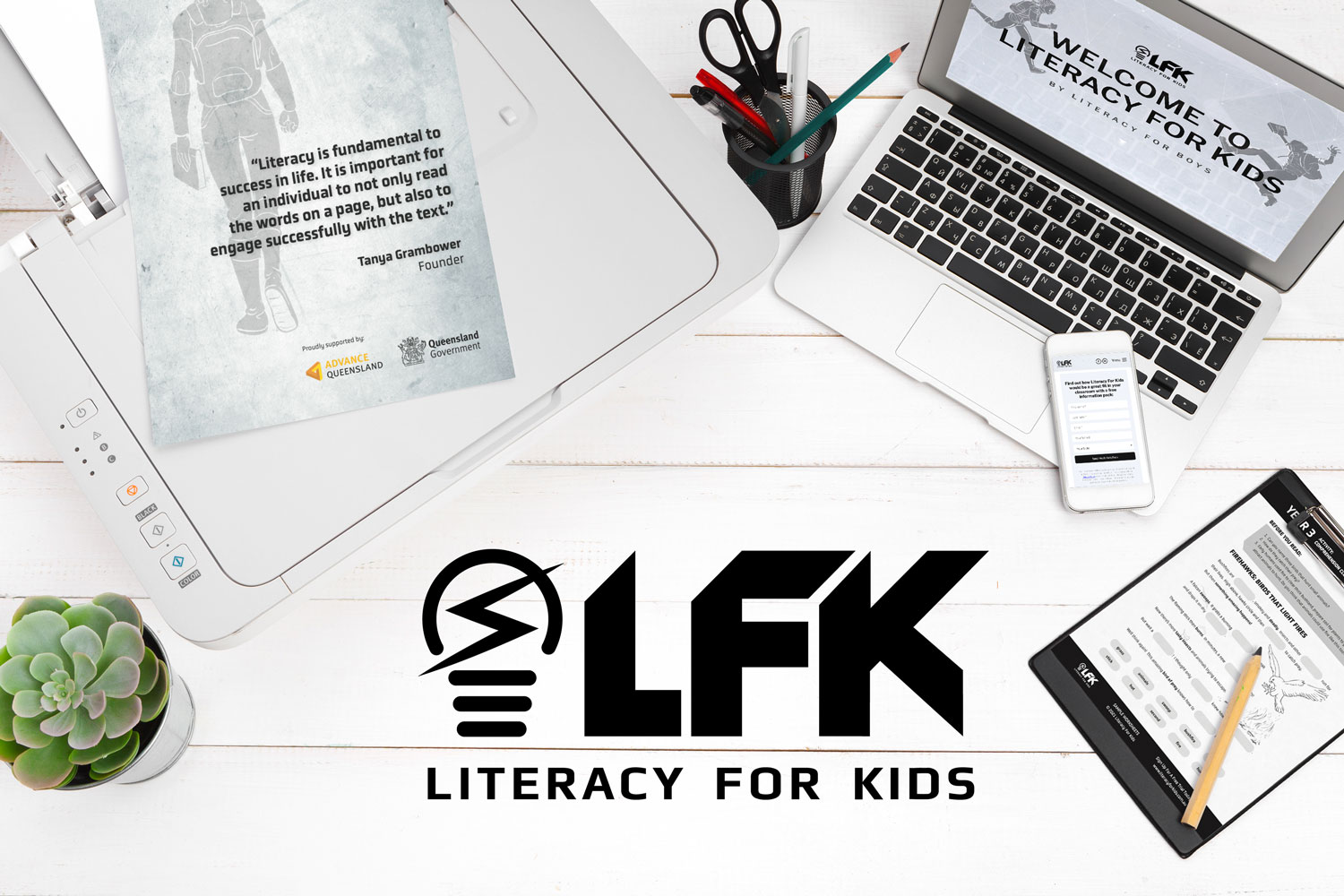 Literacy For Kids
Literacy For Kids was created off the back of the successful, Queensland Government-backed Literacy For Boys program.
Literacy For Boys is an online literacy program geared specifically toward improving literacy outcomes for boys, who typically trail girls in literacy. The program delivers fun and exciting content with topics chosen to engage boys (think motorbikes and zombies - not Shakespeare!).
The program was so well received by both boys AND girls that Literacy For Kids was conceived – an inclusive, co-ed version of Literacy For Boys designed for schools with an even wider gamut of topics to capture the interest of every student.
RGC's Involvement
RGC was engaged by Literacy For Boys (LFB) initially to manage the marketing and media relations for the expansion of the LFB program as part of the Queensland Government's Advance Queensland grant they were awarded in 2021. Thanks to our success with this, we were asked to develop the brand and marketing strategy for their new Literacy For Kids (LFK) program.
Creating The LFK Brand
We crafted the LFK brand with the intent to brighten and modernise the existing LFB aesthetic to better suit a co-ed market, while staying true to the original design language.
A single-page scroller website was created with this direction in mind which effectively conveys the quantifiable benefits of the program with messaging tailored specifically to teachers.
To further bolster the new LFK brand, we created new collateral including consumer and school information pack PDFs, and a set of sample comprehension sheets for every reading level group in the program.
Lead Generation
The primary aim for the website was lead generation, this is achieved through an information pack signup form which delivers a free program information PDF via an automated EDM delivery to every signup. Additional lead generation processes were also run natively on social media platforms with the same EDM delivery process.
Just over 50% of signups came from verifiable .edu addresses, with 95% of signups submitting a valid school name. Worth noting is that teachers submitting forms may have been using their personal email address for signup purposes which is understandable, and homeschooling was included in the 5% remainder.
Reaching Teachers
Social media marketing campaigns were run on Facebook and Linkedin initially to investigate the efficacy of each platform for lead generation. After a short trial period in 2021, we identified that Facebook had a much higher yield than Linkedin. We focused all marketing on Facebook from that point forward, and used Facebook native lead form ads with short form video creatives.
Teachers showed strong engagement with ad creatives that prioritise the student experience with the product, and with content focused on teacher testimonials. This student-centric indication gives us great faith in our educators who are clearly keen to explore innovative digital tools to improve student literacy outcomes.
Project URL

literacyforkids.com.au

Client

Literacy For Kids

Release Date

2021
Launch Project