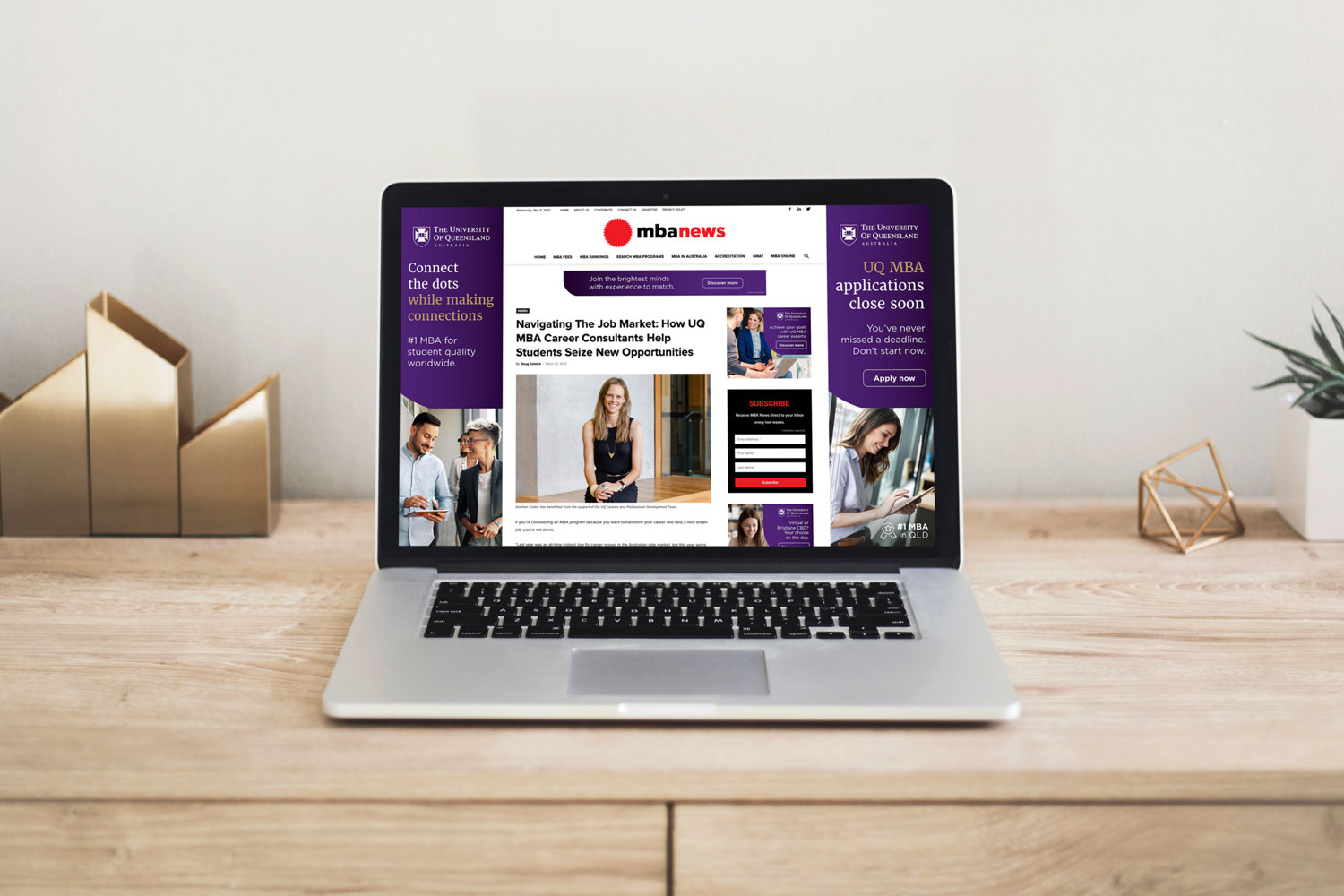 How Australia's Leading Source Of MBA News Delivers Leads For Clients
Quality content is king and telling stories that provide useful information to potential customers can be a powerful tool for brands.
At RGC, we produce editorial content in partnership with leading Australian universities for one of our inhouse websites MBANews.com.au.
We recently worked with the University of Queensland on a series of four advertorials delivering creative and engaging storytelling about studying their Master of Business Administration.
The aim of the advertorials is clear. We essentially want to tell the readers of MBANews.com.au "Here is the UQ MBA, here's why it's great, these are the reasons you should enrol in it, and click here for more information."
The production of the editorial content begins with a Zoom meeting where RGC and UQ set out the key story ideas and the narrative behind each one.
The brief is an important part of the process. An effective brief means we can quickly understand the projects and move onto interviewing and writing.
Once we had a handle on the story ideas, we reached out to UQ alumni and academic staff that could either talk about their MBA experience or discuss an interesting topic.
These interviews helped generate the quotes for the story and serve as a powerful testimonial for the UQ MBA. For the advertorial Navigating The Job Market: How UQ MBA Career Consultants Help Students Seize New Opportunities, we spoke to MBA student Siobhan Coster and Bec McIntosh, a Career Consultant in the UQ MBA Careers and Professional Development Team.
Siobhan's personal account of how the UQ Business school helped her advance her career would resonate with many readers visiting MBANews.com.au and seeking information about doing an MBA.
Similarly, Bec provides valuable information to the reader about the UQ MBA Careers and Professional Development Team and the practical services available to help students get ahead.
We bring out stories and examples of how an MBA has transformed lives and careers that serve to build positive sentiment towards the UQ brand.
With interviews done, it's time to get writing.
At RGC, we're big believers in writing great content that generates traffic, engagement, backlinks, shares and leads is the holy grail of content marketing.
Headlines are critical to engagement so we'll spend time making them as punchy as possible to hook potential MBA students in.
Backlinks are spaced throughout the articles and don't just lead to one landing page. We send readers to a variety of different web pages on the university's site like the MBA Information Session page, the UQ Business School page and the MBA Careers and Professional Development Team.
A great feature image is sourced to generate engagement, and it helps enormously in the shareability of the article. The finished advertorials are shared across MBANews' social media channels where they generate thousands of engagements from potential MBA students.
MBANews also has a database of thousands of newsletter subscribers, which allows us to put the advertorials directly into the inboxes of people with interest in studying an MBA.
MBANews is Australia's leading source of news on doing an MBA. Through quality content and creative and engaging storytelling, RGC is able to link universities directly with potential MBA students and open up a powerful new avenue for leads in an increasingly competitive market.
Project URL

mbanews.com.au

Client

UQ Business School

Release Date

2022
Launch Project