If you're looking for a great experience to entertain clients, supporters, staff and partners then a day at the races is definitely something to be considered.
Whether you're into betting and the horses — or not — a day at the races offers something for everyone. Racing clubs are not just in the business of horse racing, they're in the business of hospitality with most race courses offering a number of venues and experiences to suit all comers.
Some venues at the track can cater for a crowd of a couple of hundred or down to smaller groups and can do stand-up catering or sit down, depending upon the sort of function you'd like to have.
The horse racing can be great background entertainment or central to the day, the venues can tailor to suit, or you can look for an event manager to tie it all together and facilitate the type of experience required.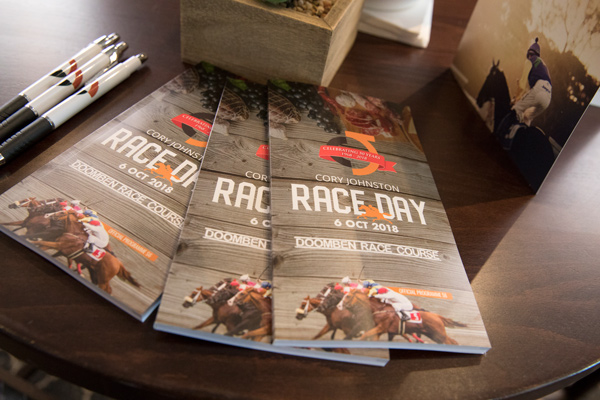 RGC recently managed a race-day for agri-products trader Cory Johnston to celebrate their 50 years in business in 2018.
Doomben Racecourse in Brisbane was the venue for the day where Cory Johnston took out naming rights sponsorship for the nine-event race card. This was a great platform for them to leverage the day through television signage exposure and at the racecourse.
120 guests were entertained with Brisbane Racing Club's hospitality team looking after the guests superbly in a private room and trackside experiences offered to guests including rail access to the starting gates and opportunities to watch a race from the race caller's room, with a view of the action not to be missed.
Experienced MC and race day host Mark Forbes of Game On International was engaged to facilitate the formal proceedings and entertain guests. Event photography was provided by EV Photo – if you're going to the expense and trouble to organise a significant event then make sure it is covered properly by a professional photographer. The results are priceless.


Racing clubs are not just in the business of horse racing, they're in the business of hospitality