Marketing's transition from art to science continues to gather pace with top-performing companies almost three times as likely as their mainstream peers to have invested in an integrated, cloud-based technology stack.
Econsultancy's 2018 Digital Trends report, published in association with Adobe, is based on a global survey of 12,795 marketing, creative and technology professionals in the digital industry across EMEA, North America and Asia Pacific. 
One of the most important takeaways from the report is the impact of marketing technology infrastructure, or tech stack.
The reports showed that while just over one-in-ten respondents have "a highly-integrated, cloud-based tech stack" those that do are almost three times more likely than their mainstream peers to outperform competitors (25% vs. 9%).
The bottom line is the nature of a company's technology infrastructure can make or break its attempts to provide an optimal experience for customers across a growing number of channels and touchpoints.
Despite this, organisations are most likely to have a fragmented approach with inconsistent integration between technologies, an unsatisfactory state of affairs indicated by 43% of company and 48% of agency respondents.
A lack of integration reduces the chances of providing a seamless customer experience. It can also be frustrating for marketers and other employees who want to go about their jobs without unnecessary restrictions in their ability to acquire, retain and delight customers.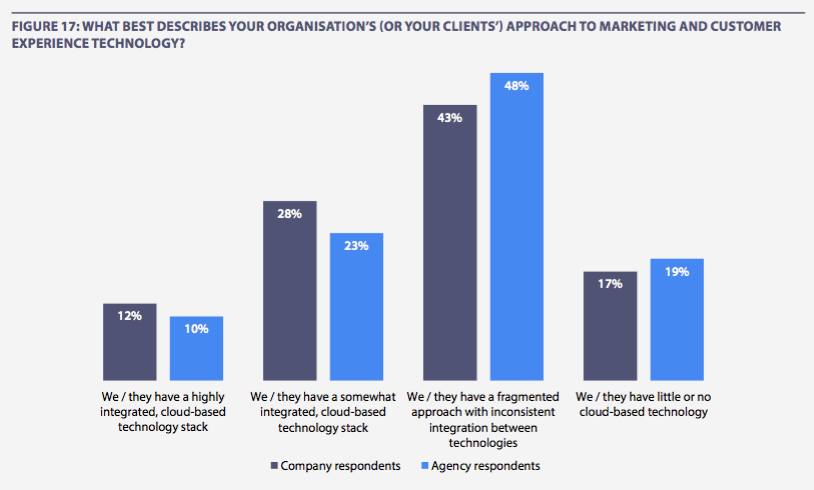 With an ever-growing number of marketing technology point solutions available (more than 5,000 at the last count), it is no surprise that many companies are struggling to build the kind of unifed platform that is increasingly a prerequisite for success.
The other major takeaway from the report was the growing importance of customer experience (CX), as well as the content required to facilitate this. Organisations committed to CX were shown to outperform their peers.
Asked about the single most exciting opportunity for the year ahead, optimising customer experience (19%) again comes out on top, ahead of data-driven marketing that focuses on the individual (16%) and creating compelling content for digital experiences (14%).
Organisations with a 'cross-team approach with the customer at the heart of all initiatives' are nearly twice as likely to have exceeded their top 2017 business goal by a significant margin (20% vs. 11%).
Just under two-thirds (62%) of companies agree they have 'a cohesive plan, long-term view and executive support for the future of [their] customer'.
The top strategic priority for organisations in 2018 is content and experience management. Almost half (45%) of companies surveyed rank this as one of their three most important priority areas for the year ahead, with a fifth (20%) stating that this is their primary focus.